BUYING NEW VS. EXISTING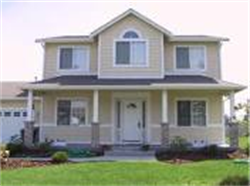 If you are having trouble deciding between purchasing an existing home or building a new home you are not alone.
Almost every home buyer struggles with this question early on in the process, and it is something that you should definitely discuss and investigate before making a decision.
Let's take a look at several "Pros And Cons" To buying either type of property.Existing home:

Pros:
You may get more quality workmanship for your dollar in a house that was built when labor and materials were less expensive.
Appliances and window treatments are often included.
If it has been renovated, updated kitchens and bathrooms may feature valuable extras.
Most existing homes have mature trees and established landscaping.
Often have unique architectural elements.
Usually in established neighborhoods.
There is a direct relationship between the price of homes for sale and the overall care and attitude of the neighborhood in general.
Cons:
Generally less energy-efficient, so more costly to heat and cool.
Past renovations may not meet today's building codes.
Building materials may be harder to match or replace.
May need expensive repairs and renovations.
Newly Constructed Home:
Pros:
Generally less maintenance than an older home. - Customized options and upgrades.
Built to updated building and safety codes.
More efficient and innovative use of space inside and out
often more storage space.
Modern amenities.
More energy-efficient design and materials, better lumber, improved insulation.
May be wired for today's technology and security.
You can have input into structural and interior decorating decisions.
New subdivisions may have more recreational facilities.
Many offer amenities not commonly found in existing subdivisions. Examples include swimming pools, clubhouses, jogging trails, open space areas, and playgrounds, to name a few.
New building materials are often safer, as they don't include things such as lead or asbestos.
Construction and appliance warranties often still apply, but read the fine print, as these usually aren't as all-inclusive as you might think.
Many, though not all, new subdivisions have architectural controls and covenants. Often this translates into increased protection of property values. They may also require membership in a community homeowner's association, with mandatory fees and assessments.
Often there are restrictions as to exterior siding colors and materials, parking restrictions, landscaping requirements, and limitations as to satellite dishes.
Cons:
Construction delays are common and may necessitate an interim move.
New homes can cost more than existing homes due to escalating land values, material and labor costs.
Resale may be difficult before construction is completed in the entire subdivision -- most buyers in new developments prefer to choose a new home and all the options.
Dirt, mud and construction noise may be a problem until the entire neighborhood is completed.
You may be charged higher taxes to expand services to a new area with few inhabitants.
Landscaping over and above the contractor's basic package can be costly.
Unwanted developments or businesses may continue to be built on neighboring land.
Unknown problems with land or construction may cause headaches (such as drainage problems, underground waterways, sink holes, poor soil conditions, etc.)
New homes are often on the outskirts of a town or city, which may mean a longer and more expensive commute to work.
Additional costs. Some subdivisions have mandatory fees for homeowners' associations and other assessments.